Jan Vankeerberghen, born 1983 in Anderlecht (BE), lives and works in Brussels (BE)
The paintings, drawings and music by Belgian artist Jan Vankeerberghen are influenced by European modernists and European Lyrical Abstraction.  His

love

for painting started during a school trip when he was introduced to the works of the Belgian abstract artist Felix De Boeck and met the artist. 

As a child, Jan acted in several films and television series: the Oscar nominated 'Daens' by Stijn Conincx , the Dutch films 'Character' by Mike van Diem , 'The flying Dutchman' by Jos Stelling. He also played in a Belgian tv film 'Mon père des jours pairs' by André Chandelle and 'Manneken Pis', the debut film of director Frank Van Passel.
 He decided to pursue his love of creating by studying at Sint-Lukas Brussels at getting a master in audio visual arts. As his final project, he created a short animation film. 'Danny and me' was selected for the Helsinki International Film Festival, Leuven kort and many others. When he needed music for his Film Project 'Hannah', he worked with Wim Mertens who gladly helped. 

Jan is a pupil of Geerard Alsteens, better known as 'GAL', political draughtsman and painter and Philip Aguirre y Otegui, sculptor and painter. During his secondary studies, the love of painting arose in the lessons of Nora Theys and Jan Frederik De Cock.
He began making illustrations, publishing them accompanied by poems and stories from celebrated songwriter Mary Boduin and television personality Erik Baranyanka. Jan still painted figurative elements before definitively choosing an Abstract aesthetic.
His visual art mostly comprises drawings, water colours, paintings and designs for haute couture. He paints in oil, often inspired by nature and always from within the depths of himself. His work express the range of human moods and feelings. His paintings are ageless in their questioning of the universe. They present the birth of light, the origins of water and universal life energy. Jan his poetic, abstract art, pictures evoke scenic-cosmic associations. 
The style of Jan's latest paintings is abstract expressionism and lyrical abstraction. The oils on canvas are structurally balanced. They are composed by movements, lines and brushstrokes and painted with intention. At the same time, they are also steeped in the abstract expressionist freedom of space and improvisation and the use of placing points and lines as well as space and composition. During 2020 he painted in larger formats, including diptychs and triptychs. In 2010, Jan did an art exposition for the Belgian royal family in Kortrijk. Two years later he composed the music for a performance by the ballet group Ballerino. They were invited to perform at the royal palace in Brussels for the 20th anniversary of the Queen Paola foundation. In the same year he also performed in the Brussels parliament and the Antwerp City concert hall for the King Baudoin foundation.
Through the years his music became more influenced by minimalism and contemporary classic and experimental music. He's left cabaret behind and joined postmodernism. His rhythmic ideas come from world music and other folk influences. His music has a strong melodic foundation. Jan and his ensemble now mainly play his instrumental compositions. Human voices occasionally appear in his work but mostly his compositions are performed by orchestras or an instrumental ensemble.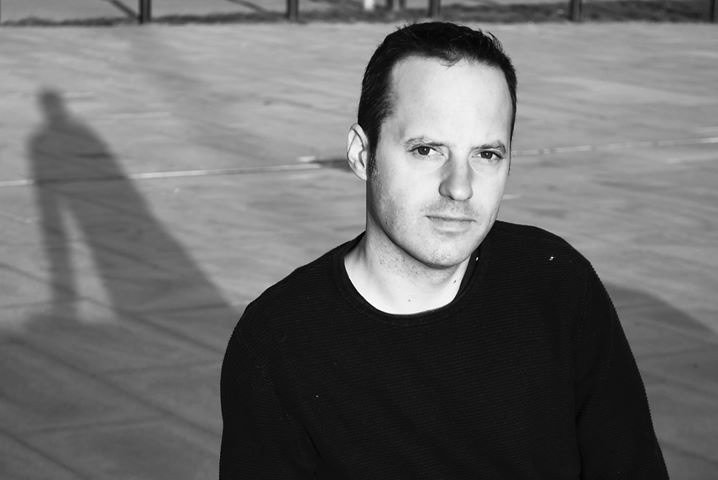 Jan Vankeerberghen (né à Anderlecht le 9 mai 1983) est un artiste belge multifacettes. En tant que peintre artistique, il dispose d'une oeuvre riche et variée, mais il est également actif en tant que compositeur, dessinateur et professeur. Il a obtenu une maîtrise en arts audiovisuels à la Haute Ecole Sint-Lukas de Bruxelles et a ensuite suivi une formation d'enseignant à CVO Lethas, toujours à Bruxelles.
Jan est le cadet de trois enfants issus d'une famille de musiciens. Il a grandi dans une famille bilingue (français/néerlandais) de Lembeek, un village situé sur la frontière linguistique entre le Brabant Flamand et le Brabant Wallon.
Jan est peintre par nature. Son coup de foudre pour la peinture s'est déclaré  lors d'une excursion scolaire destinée à découvrir les oeuvres visuelles (peintures et dessins) de Felix De Boeck. Il a joué dans plusieurs films : 'Daens' nominé aux Oscars par Stijn Conincx , les films néerlandais '

Caractère'

 de Mike van Diem ,

'
Le Hollandais volant'
 

de J

os

Stelling. Il a également joué dans un téléfilm belge 'Mon père des jours paires' d'André Chandelle
Jan a passé sa jeunesse à Hal, ville où il a appris à jouer du piano et du saxophone. Après une formation classique, il s'oriente, à l'âge adulte, davantage vers la pop et le rock. Dans les années 2000, il fait partie de plusieurs groupes de rock des environs de Hal. Il compose ensuite plusieurs partitions musicales pour le théâtre et réalise plusieurs courts-métrages.
La plupart des morceaux du groupe Zonko ont été écrits par Jan. Par la suite, Jan écrivit plusieurs chanson en néerlandais. Les références musicales de Zonko tendaient vers les minimalistes comme Wim Mertens.
En ce qui concerne ses oeuvres visuelles, Jan a évolué du figuratif vers l'expressionisme abstrait, mais sa musique fut, au fil des années, de plus en plus influencée par le minimalisme. Jan a régulièrement recours à des influences de la World Music en ce qui concerne les idées rythmiques, dont l'accordéon fait partie.
Il crée des compositions instrumentales minimalistes avec son ensemble instrumental. La plupart du temps, les performances musicales sont

accom

plies par un ensemble et un orchestre, accompagnées de temps en temps par des chants.
En 2010, Jan a exposé à Courtrai pour la Famille Royale; il fut invité au Palais Royal de Bruxelles le 3 septembre 2012 à donner un concert avec la troupe de ballet Ballerino, à l'occasion du vingtième anniversaire de la Fondation Reine Paola. Il donna un concert la même année dans la Galerie des Glaces du Parlement bruxellois ainsi qu'au Stadsschouwburg Antwerpen

(

Théâtre Municipal d'Anvers) pour la Fondation Roi Baudouin.
Avec "Zeg maar dag", sorti en 2013, il a connu son premier hit diffusé à la radio et à la TV.
Jan a illustré différents livres et sorti plusieurs albums au fil des années.
En dehors de la musique, son oeuvre visuelle consiste principalement en des dessins, des aquarelles et des peintures. Ses peintures lyriques à l'huile sont inspirées des sentiments qu'il puise au plus profond de lui, ainsi que de la Nature. Ses portraits expriment des sentiments ainsi que des états d'esprit.
Les oeuvres visuelles de Jan sont stylistiquement comparables à celles de l'expressionnisme abstrait. Ses huiles sur toile sont structurellement en équilibre. Elles ont été peintes comme convenu, avec des lignes et des coups de pinceau. Mais elles sont aussi imprégnées de la liberté d'espace et d'improvisation de l' expressionisme abstrait, et de l'utilisation de placement des points et des lignes, en complément de l'espace et de la composition. Les oeuvres visuelles de Jan sont utilisées dans le domaine de la mode, principalement comme imprimés et motifs po

ur des

vêtements pour enfants et femmes et des écharpes. 
Jan Vankeerberghen (Anderlecht, 9 mei 1983) is een veelzijdige Belgische kunstenaar.
Hij heeft een rijk en gevarieerd oeuvre als kunstschilder, doch is hij ook actief als componist, tekenaar en docent.  Hij behaalde het diploma van 'meester in de audiovisuele kunsten' op Hogeschool Sint-Lukas Brussel en vervolledigde nadien een lerarenopleiding te CVO Lethas Brussel.
Jan komt uit een muzikale familie en is de jongste van drie kinderen. Hij groeide op in een tweetalig gezin uit Lembeek, een dorp aan de taalgrens van Vlaams en Waals- Brabant. 
Jan is van nature kunstschilder, de liefde voor de schilderkunst ontstond toen hij als kind in aanraking kwam met het beeldend werk van Felix De Boeck tijdens een schooluitstap. Hij bracht zijn jeugd door in Halle waar hij piano en saxofoon leerde spelen. Na zijn klassieke vorming bewoog hij zich op volwassen leeftijd meer richting wereldpop en rock. In de jaren 2000 sloot hij zich aan bij meerdere rock-achtige groepen in de streek rondom Halle. Vervolgens begon hij muziekstukken te schrijven voor theater en maakte hij enkele animatiefilms.
De meeste nummers van popgroep Zonko werden door Jan geschreven en later volgden eigen Nederlandstalige nummers. In de Zonkonummers waren er instrumentale verwijzingen naar minimalisten zoals Wim Mertens.
Zijn beeldend werk evolueerde intussen van figuratief tot abstract expressionisme en doorheen de jaren duiken er steeds meer invloeden vanuit het minimalisme op in zijn muziek.
Met zijn instrumentaal ensemble begint hij eigen minimalistische instrumentale composities te brengen. Af en toe duiken er nog menselijke stemmen op in zijn werk maar meestal worden ze gebracht door een instrumentaal ensemble of orkest.
Jan gaf een tentoonstelling voor de Koninklijke familie te Kortrijk in 2010 en werd samen met balletgroep Ballerino als gast op 3 september 2012 uitgenodigd om een concert te geven voor de 20e verjaardag van de Koningin Paola stichting op het koninklijk paleis te Laken.  In datzelfde jaar gaf hij ook een muziekconcert in de Spiegelzaal van het Brussels Parlement en een optreden in Stadsschouwburg Antwerpen voor de Koning Boudewijnstichting.
In 2013 had hij op de nationale radio en televisie voor het eerst een hit te pakken met het nummer 'Zeg maar dag'.
Doorheen de jaren illustreerde hij verschillende boeken en bracht hij meerdere albums uit. 
Zijn beeldend werk omvat vooral tekeningen, aquarellen en schilderijen. Hij schildert lyrische olieverfschilderijen over gevoelens waarvoor hij inspiratie vond in zijn diepste zelf en de natuur.  De portretten drukken de veelheid van menselijke stemmingen en gevoelens uit.
De schilderijen van Jan zijn stilistisch vergelijkbaar met die van het abstract expressionisme. Deze oliën op canvas zijn structureel in evenwicht. Ze werden met bewegingen gemaakt door lijnen en penseelstreken en geschilderd zoals de bedoeling was. Ze zijn echter ook doordrenkt met de abstract expressionistische vrijheid van ruimte en improvisatie en het gebruik van plaatsing van punten en lijnen in aanvulling op ruimte en compositie. 
Beeldend werk van Jan wordt gebruikt in de modewereld, voornamelijk als prints en patronen op kinder en vrouwenkledij en sjaals.