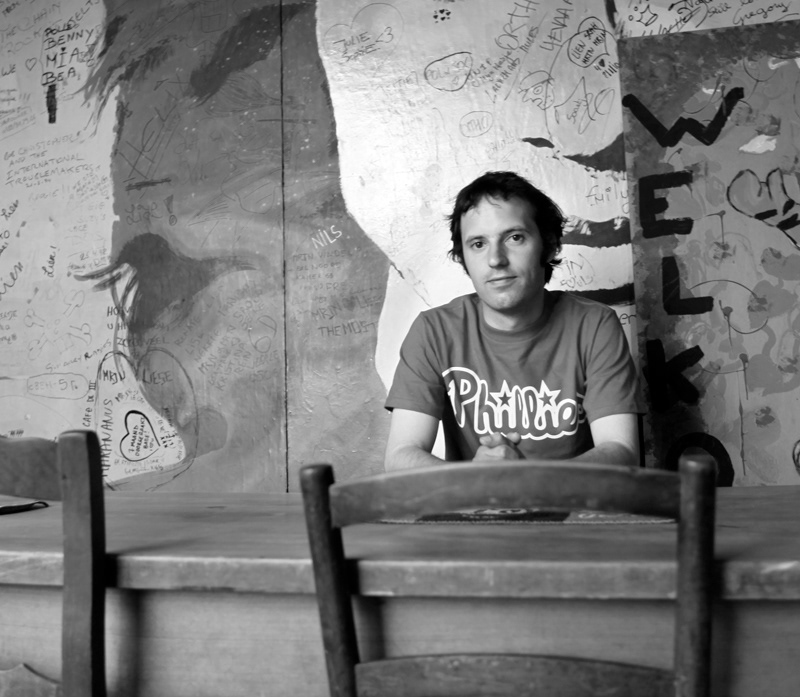 - 1983 born 9 may in Anderlecht (Brussels) 
-  1992 actor in film "Daens", directed by Stijn Conincx: as brother of Nette
- 1995 voice acting in film "De vliegende Hollander (The Fying Dutchman)", directed by Jos Stelling
- 1997 acting in film "Karakter" (Character)" directed by Mike van Diem
- 1998  acting in film "Mon père des jours pairs (Regard d'enface)", directed by André Chandelle
-2003 writing, directing and acting in student film "Blik"
-2004 directing and animation for student film "Hannah"
- Zonko wins 'Zennetoer', a countest for young music bands, Jan wrote a lot of songs for the world music group
(Hannah was official selected for Leuven kort 2004 and The 17th European Youth Film Festival of Flanders)
-2005 direction and animation with Stefaan Van Hyfte for student film "The Aftermath"
("The Aftermath " was official selected for 1minute Film & Sound awards in Ostend, Leuven Kort 2005 and Bologna Future Film Festival 2005 Italy)
-2005 directing and animation for student film "Vestigios"
-2005 directing and writing for "Posse" a short fiction student film 
- Zonko keeps up the good work, because they successively manage to win the Exixion Rock Rally, the Red Rock Rally and Flodder Rock. During summer of 2005, they play as a pre-program band for the Levellers, the Stranglers and Starflam. 
-2006 direction and animation for student film "Danny and me
(Danny and me" was official selected for Leuven kort 2006, festival 'Het grote ongeduld' and International filmfestival "Illumenation" in Helsinki, Finland)
-2006 drawings and illustrations for book 'De Babbelboom en andere Afrikaanse verhalen' by Eric Baranyanka (The chatter tree), published by Manteau
- 2007 starts a career as a teacher in Don Bosco Technisch instituut Halle and in 2008 in Technisch atheneum Halle.

That year 

 he was recognised by his home town of Halle as a promising new talent and awarded the 'Krak' title.
- 

The highlight of 2007 is Zonko their much appreciated performance, when they play the closing act at the famous "Ghent Festivities". At one a.m., the stage "at Sint-Jacobs" takes on a nearly Brazilian touch, with a laughing and swinging crowd.
- 2008 Zonko score high with their "Brelliant" project, in honor of Jacques Brel. Several songs by this Belgian "monument" are rearranged into a contemporary sound, backed-up by the Sint-Martinusfanfare Halle. And during summer they retreat in the studio for their first album, "Toujours l'été".
-2009 direction and animation for film about 'Het Fonds Wetenschappelijk Onderzoek Vlaanderen'.
-2010 drawings and illustrations for book 'De jongens van de vlakte', published by Lannoo 
-

2010

 Jan did an exhibition for the Belgian royal family in Kortrijk with drawings and paintings 
-2011 H
is song "Everything is everyone's" (Alles is van iedereen) is the official song of the GO!, the organisation of the Flemish state schools.
-2012 Jan and ballet group 'Ballerino' were invited to perform at the royal palace in Brussels for the 20th anniversary of the Queen Paola foundation. In the same year he also performed in the Brussels parliament and the Antwerp City concert hall for the King Baudoin foundation.
-2013 He created 
a song (co-written) with Mary Boduin 'Zeg maar dag', reached the Radio 2 Flemish top 10 (position 5). In the same year he is awarded a new trophy by his home town, the 'Cultuurduivel' or 'cultural devil'.
- Birth of his daughter Lily
-2014 CVO lethas Brussels and a lot of music gigs
- 2015 CVO lethas Brussels, a lot of music gigs and freelance work
- Birth of his son 'Gust'
-2016 Release of the single 'Deel je hart' and music album 'Wonderlijk'
- Illustrations and drawings for book 'Elk kind is een held', written by Chris Van Lysebetten. The book is published by Lannoo Campus.
- 2018 Jan starts to draw and paint portraits, realisation of a monumental work in Ijzeringenstraat, Halle. (work in public place)
- 2019 Monumental work in Heikruis (work in public place) and a lot of portraits, he starts to write instrumental music for film and theatre
- 2020 Illustrations and drawings for 'Dat heet dan gelukkig zijn', a book by actress and songwriter Mary Boduin. The book is published by Borgerhoff-Lamberigts